I've become picky about cake. Part of it comes from attending weddings. Some of it was working on a cake-based fundraiser called "Let Them Eat Cake" where contestants had to submit two identical cakes. One to sample, one to auction off. Between that, various boxed cake mixes, and a burning desire to have small amounts of really good cake whenever I want...I turned to made-from-scratch recipes.[1] While there are some good box mixes -- if you don't follow the directions exactly -- I do not want to bake a 9x13 or double layer cake for just myself. I don't like cake that much. A bonus feature of scratch cakes is the fact that you can make a half (or quarter or third or whatever fraction gets you down to one egg) of a cake. And then bake it in something other than cupcake pans. An 8x8 pan or 9 inch cake pan, or (my recent favorite) ramekins will do.
I finally found a recipe that meets all my criteria: few ingredients, reduces down to a 1/4 batch easily, doesn't get all gross when I want to play with flavors. It's called "Golden Milk Cake".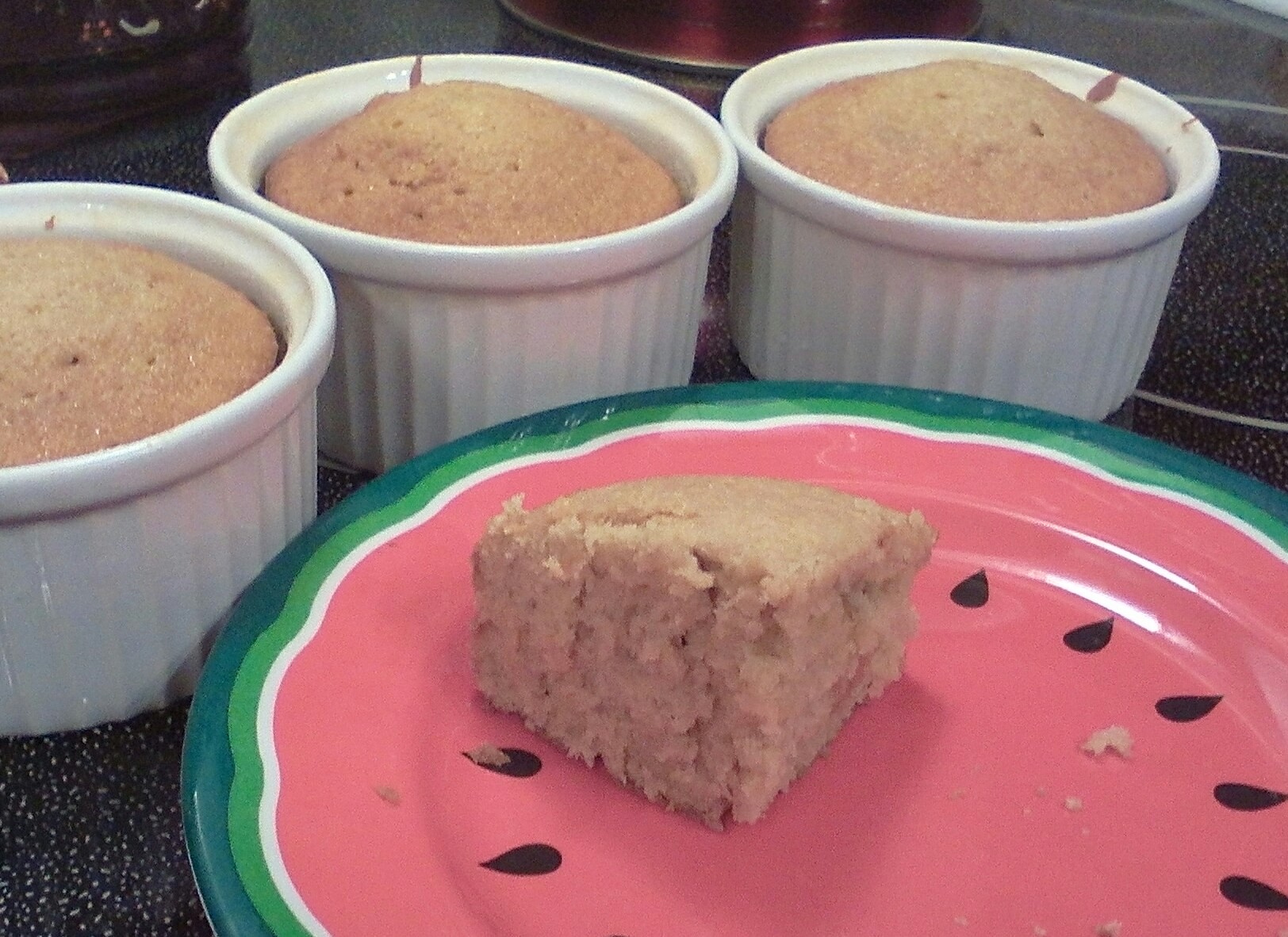 I'll get around to posting the full, original Golden Milk Cake recipe eventually. Right now, I want to blog about my latest experiment. I wanted to see if I could make a carmel flavored cake, but what I ended up with was more like butterscotch. Warm from the oven it was pure heaven.
So here's the actual (half-batch) recipe.
Butterscotch Cake
1 stick butter, softened
1 cup, packed, brown sugar
1 tsp vanilla
2 eggs, room temperature
1.5 tsp baking powder
1/2 cup half and half
1 cup sifted flour (don't have a sifter, stir the flour with a whisk before measuring)
Preheat oven to 350F. prepare your baking vessel[2]. Cream together butter and sugar, add vanilla and eggs, beat until smoothh. Dissolve the baking powder in the milk, stir in the sugar mix until smooth, Add flour then mix until just combined. Pour into baking vessel. 1/4 cup for cupcakes, 1/2 cup for ramekins, the whole bowl of batter. Bake until the top is dry but springy or a toothpick comes out clean when stuck in the center. Time wise that's:
cupcakes--15 to 20 minutes
Ramekins--30 to 35 minutes
pans--50 minutes
Makes 12 cupcakes or one 8x8 pan, or one 9inch round cake pan or 4 ramekins
-------
[1] I also believe that good cake doesn't need frosting. Really good cake says "Frost me if you MUST, sugar addict, but you're missing the point."
[2] line the cupake pan with cupcake sleeves. butter and flour the square or round pans. The ramekins will easily take giant muffin liners (you'll just have very frilly sides) or you can butter and flour them.)